Cancel or edit your subscription anytime

Weekly, monthly, and custom options available

Choose from 3
sizes to suit your
needs perfectly

Locally sourced
flowers & products

Add gifts to your
subscription as you
choose.
I just visited my friend the flowers were for and over 2 weeks later their arrangement still looks
as if they recieved them yesterday! So impressed with the quality and efficiency of service. My
friend also mentioned the friendliness of the delivery staff who delivered them directly to her
hospital room! Couldn't be happier :)

Johanna W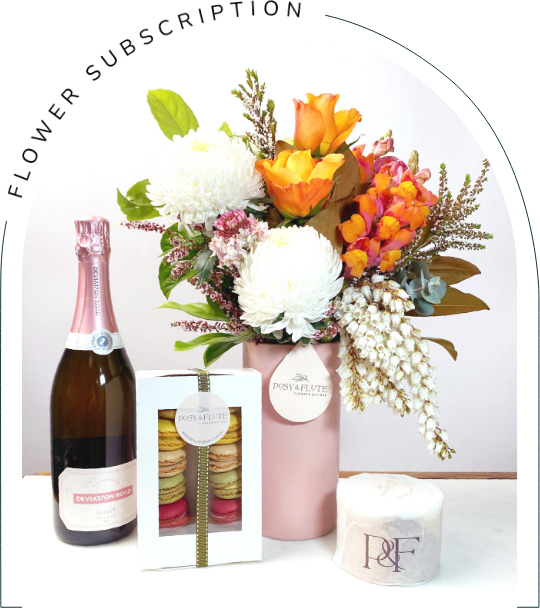 The Perfect Gift For Your Loved One Or A Stunning Treat For Yourself
Give the gift that keeps on giving with fresh flowers delivered
weekly, monthly, or customised to suit your needs. Our
Flower Bar Subscription is the easiest way to receive
seasonal, locally-sourced blooms right to your doorstep!
Pre-order gifts for every occasion, from birthdays, to anniversaries and more (and gain year-round brownie points for how organised and thoughtful you are!)
Send a flower subscription to your Adelaide-based loved one from anywhere in Australia or overseas.
Brighten your own home with a new, unique bouquet of flowers on repeat, made with love and care especially for you.
Our subscription is guaranteed to make your life a whole lot
easier, no matter the reason.
How Does the Flower Bar Subscription Work?
Getting started is simple…
STEP 1

Choose your subscription and posy size

Choose your frequency
of delivery, and select the
perfect bunch for your needs
from our 3 sizes: Standard,
Premium and Deluxe.

STEP 2

Customise your order
with gifts & wine

Browse our wide range
of optional add-ons to take
your delivery to the next
level. Round out your present
with a locally sourced gift, or
add a hand-picked bottle of
wine to perfectly
complement the occasion.

STEP 3

Set up automatic
payment and delivery

Your direct debit will be
processed from your account
and ta-da! Your new bunch
will be delivered the same
day as the payment was
made. Simply login to your
account to edit or cancel your
subscription at any time.

STEP 4

Enjoy fresh flowers on
repeat for you or your
loved one!

Sit back and let us handle
the rest. We'll design and
send your unique bouquet.
We'll even send you a
reminder as your order is
fulfilled for delivery to
remind you how thoughtful
and awesome you are!
Why 5000+ Customers Trust us to
Make Someone's Day
Freshness Guaranteed

We're up early each morning to hand-select the
freshest, most beautiful seasonal flowers from
local growers, so you know your posy will go the
mile to bring joy!

Stunning Customer Service

Overflowing with passion and care for what we
do, we always strive to leave you and your
recipient smiling and supported at every stage
of the process.


Expertly Crafted

More than just a florist, we combine 20+ years in
wine, events, and flower design, and are lifting
the bar with a high-quality Flower & Gift Bar
experience unlike any other.

One-Stop Gift Shop

Our website makes it convenient and easy to find
and send the perfect personalised gift for any
occasion - no shopping, wrapping, or delivering
required!
Hear From These Delighted Customers
I just visited my friend the flowers were for and over 2 weeks later their arrangement still looks as if they recieved them yesterday! So impressed with the quality and efficiency of service. My friend also mentioned the friendliness of the delivery staff who delivered them directly to her hospital room! Couldn't be happier :)

Johanna W

I purchased flowers online and a stunning arrangement of tulips in a vase was created. The interstate recipient texted a photo and they looked absolutely beautiful. Posy and Flute were professional, and they delivered in a timely manner. I will definitely order from them again. Thanks so much.

Angela F

I ordered the daily bunch for my sisters 40th birthday and she knew it was from me before even opening the card. She then called me and said it made her cry. Thank you so much she loves orange and red and they happened to be orange blooms. We were both Delighted.
Thank again

Emma R