Most Popular Flowers & Gifts
Handpicked Gifts for Every
Occasion (or Just Because)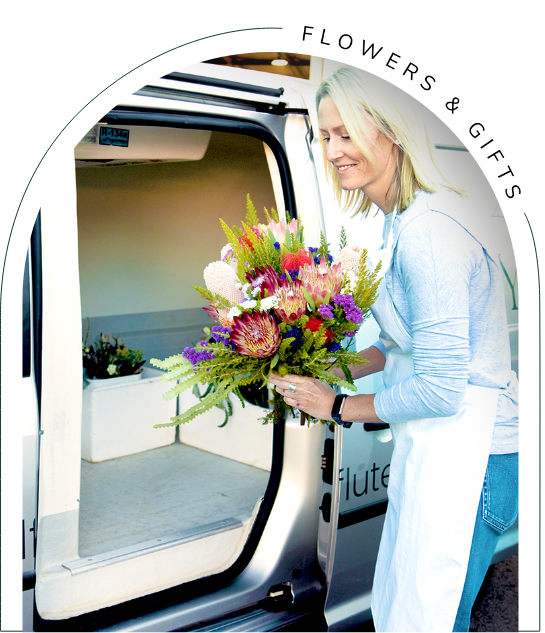 Flower Deliveries and Same Day Flower Delivery
Flower deliveries  bring joy, life and colour to an occasion unlike anything else, and nothing says I'm thinking of you like a thoughtfully selected gift. Whether you're celebrating a birthday, schmoozing a client, wishing someone the best, or looking for brownie points with your partner or in-laws, a caring flower delivery from Posy&Flute goes a long way.
When you're separated by distance or just by your busy schedules, getting the right gift into the hands of your loved one can be difficult. Not to mention, choosing the perfect bunch for flower delivery, or bottle of wine can be intimidating! (Which red wine says "I'm sorry I forgot your birthday" again?)
How it Works
Flower delivery, wine and gifts, or choose from just one, with every item in our Bar hand-picked to delight.

Personalise and Send Your Gift in 4 Simple Steps:
STEP 1

Browse the Flower Bar

Pick the perfect posy for
every occasion, with all
fresh bunches locally
sourced and lovingly
designed by our florists.
Choose from Standard,
Premium or Deluxe


STEP 2

Add the Perfect Gift

Want to add a little
something extra? Personalise
your delivery with a hand-
selected item from our ever-
growing Gift Bar. Choose
from locally-made candles,
artisan chocolates, glassware,
baby toys and more, all
available Australia-wide.

STEP 3

Visit the Wine Bar

Is your recipient a wine
lover? With options for every
taste and occasion, why not
level-up your delivery with a
bottle of wine! We've
curated a wine list to rival
your favourite restaurants,
using 20+ years of wine
industry experience.

STEP 4

Same Day Gift & Flower Delivery

Personalise your gift with a
card, and checkout before
12pm for same-day flower delivery
in Adelaide. We'll lovingly
select, wrap and deliver
your gift into the hands of
your loved one, looking as
fresh and stunning as ever.
With same-day flower delivery to 200+ Adelaide Suburbs, and Australia-wide gift &
wine delivery, it's easy to show someone you care.
Visit The Flower Bar Now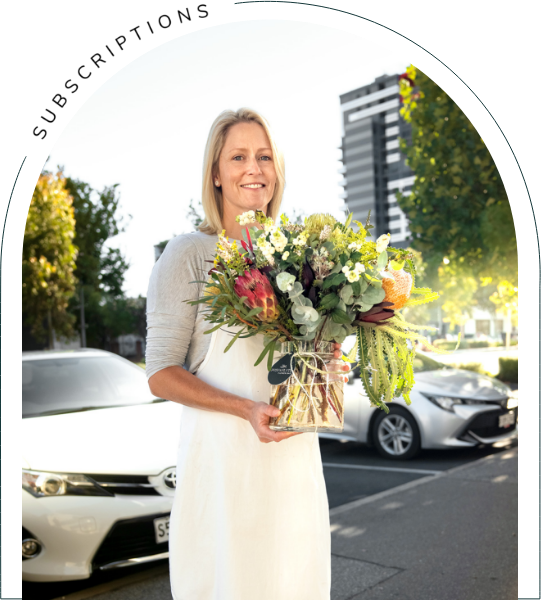 Flower Bar Subscriptions
for Fresh Flowers on Repeat
Whether you want to never forget a special occasion again, or to just enjoy fresh flower delivery in Adelaide to your own home or office regularly, our Flower Bar Subscriptions make that reality a breeze. Just select your posy size and flower delivery frequency, and gain year-round brownie-points for how organised and thoughtful you are!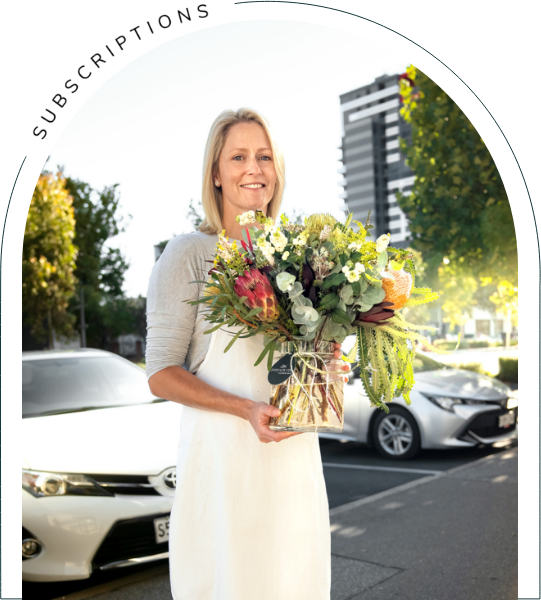 Personalised Flower Subscriptions
Regular fresh flower
deliveries for yourself or
a loved one.
Find Out More
Corporate Flower Subscriptions
Client gifts and office
flower deliveries customised
to your business.
Find Out More
Bring Your Vision Board to Life With
Flowers & Styling for Your Next Event
From weddings, to parties, to corporate events, our floral design and event specialists can make your creative dreams a reality! With 20+ years experience in event management and floristry, you can trust us to take care of every detail for an unforgettable, stress-free event.
About Posy & Flute
We're on a mission to spread joy and connection by
delivering a seamless gifting experience for every occasion…
Discover More
Why 7000+ Customers Trust us to
Make Someone's Day
Freshness Guaranteed

We're up early each morning to hand-select the
freshest, most beautiful seasonal flowers from
local growers, so you know your posy will go the
mile to bring joy!

Stunning Customer Service

Overflowing with passion and care for what we
do, we always strive to leave you and your
recipient smiling and supported at every stage
of the process.


Expertly Crafted

More than just a florist, we combine 20+ years in
wine, events, and flower design, and are lifting
the bar with a high-quality Flower & Gift Bar
experience unlike any other.

One-Stop Gift Shop

Our website makes it convenient and easy to find
and send the perfect personalised gift for any
occasion - no shopping, wrapping, or delivering
required! We offer same-day gift delivery in Adelaide.
Hear From These Delighted Customers
I just visited my friend the flowers were for and over 2 weeks later their arrangement still looks as if they recieved them yesterday! So impressed with the quality and efficiency of service. My friend also mentioned the friendliness of the delivery staff who delivered them directly to her hospital room! Couldn't be happier :)

Johanna W

I purchased flowers online and a stunning arrangement of tulips in a vase was created. The interstate recipient texted a photo and they looked absolutely beautiful. Posy and Flute were professional, and they delivered in a timely manner. I will definitely order from them again. Thanks so much.

Angela F

I ordered the daily bunch for my sisters 40th birthday and she knew it was from me before even opening the card. She then called me and said it made her cry. Thank you so much she loves orange and red and they happened to be orange blooms. We were both Delighted.
Thank again

Emma R
Gift Delivery Adelaide: A Thoughtful Touch
Unique Gifts from Our Gift Bar

In addition to our stunning flowers, explore our Gift Bar for a range of unique and thoughtful gifts. Our gifts, which range from handmade candles and chocolate to bespoke hand selected gift items, ranged to enhance your flower delivery Adelaide and add distinctive touches to every occasion.

Gift Delivery Adelaide: Prompt and Personalized

Our Adelaide gift delivery service guarantees that the gifts you've selected will be delivered on time and with a personal touch. Posy & Flute makes gift-giving simple, whether it's for a birthday, anniversary, or just because.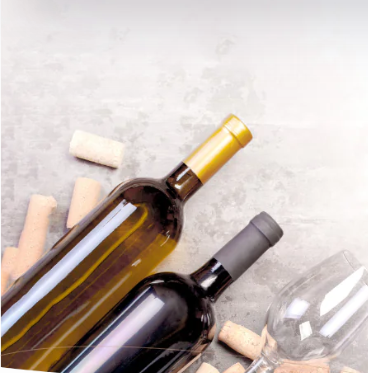 Wine Bar: Fine Wines for Every Occasion
Add a touch of sophistication to your gift with our Wine Bar. With over 20 years of expertise in the wine business, we have put together a selection of excellent wines that go well with every occasion. Elevate your gesture with a bottle of exquisite wine.
How can I join the VIP Club for exclusive discounts?
To become a member of the VIP Club and receive special discounts and offers, just register on our website. With each purchase, get points for future discounts.
Choose Posy & Flute for a delightful flower and gift delivery experience in Adelaide. We're here to make every event special, whether it's with exquisite wines, unusual presents, or same-day flower delivery. Order now and let your sentiments blossom!
Frequently Asked Questions
Yes, we deliver flowers to more than 200 Adelaide suburbs on the same day for orders placed before. To ensure quick service, place your order by noon.
Of course! You may select from Standard, Premium, or Deluxe arrangements at our Flower Bar to make sure your flowers are ideal for the occasion.
Our dedication to freshness, over ten years of floristry experience, and carefully chosen assortment of presents set us apart as an exceptional option for Adelaide flower and gift delivery.
Yes, companies seeking personalized client presents and office flower delivery are catered to by our Corporate Flower Subscriptions.