I just visited my friend the flowers were for and over 2 weeks later their arrangement still looks
as if they recieved them yesterday! So impressed with the quality and efficiency of service. My
friend also mentioned the friendliness of the delivery staff who delivered them directly to her
hospital room! Couldn't be happier :)

Johanna W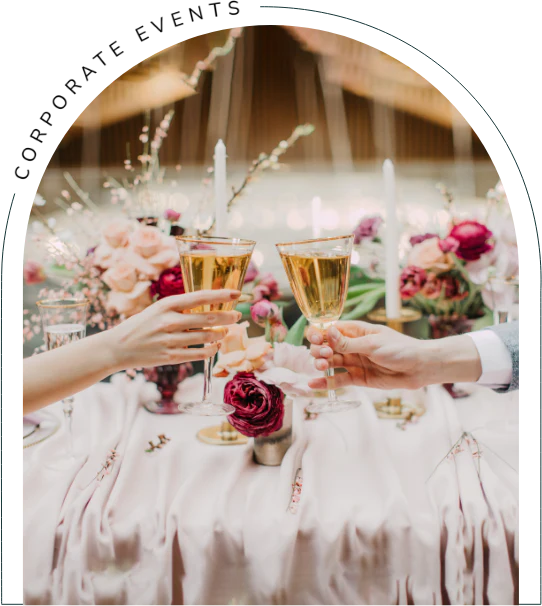 Truly Enjoy The Process Of Planning With Adelaide #1 Floral Event Planner: Bringing Your Vision To Life
Are you looking for flowers for an upcoming celebration with family and friends? Or perhaps you need help designing a display for your commercial venue or event? No matter the size, style, or type of occasion, our team can help bring your event dreams to life with stunning event flower arrangementsin Adelaide.

Our team have over 20+ years of experience in major events and floristry, and have helped thousands of clients to bring every concept through to execution. We're committed to making the process as seamless as possible for you, so you can bring life, joy and colour to your event - without the added stress.
Speak With The Team
Event Flower Arrangements for Any Size, Budget and Style
From simple parties to large event styling, we can help. Benefit from an entire team
of dedicated professionals putting love, time and care into every aspect of your
arrangements, with no detail missed.

You can lean on us every step of the way:
Planning Your Blooms

We'll take the time to understand
exactly what you're looking for,
and the colours, style, and
personality you want to capture.
Together, we'll dive into your
vision board and work out exactly
how we can bring your ideas to
life in a way that works for your
budget, space and needs

Designing Your Blooms

Your blooms will be created using
only the freshest seasonal flowers
from local growers, and carefully
designed in our Glenelg East
Studio. Leave the heavy-lifting up
to us when it comes to sourcing
and creating every aspect of your
event flowers - from table
arrangements, to scattered florals,
to stage displays and more.

Styling Your Blooms

When Event Day arrives, we'll be
on-hand to set-up your flowers,
put the finishing touches on your
florals, and ensure everything is
exactly how you dreamed it would
be. We can also coordinate with
event planners and venues for
you, so you don't need to worry
about a thing!
Flower Arrangements For Events
At Posy & Flute, we offer stunning event flower decoration in Adelaide for private to corporate occasions. Find out the best-selling floral designs.
S-Shaped Flower Arrangements

With Sinuous Curve, we create a graceful and eye-catching curved line using fresh and blooming flowers. Ideal for wedding events, corporate functions, or any special event.

Oval Shape Flower Arrangements

Accentuate tables or entire event venue via balanced symmetry and graceful contours of Oval flower design. Can be placed in a flower basket, bouquet, or bunches.

Fan-Shaped Flower Arrangements

With a fusion of botanical artistry and event decor, we mimic the graceful spread of a fan via fresh flowers. Great choice to add drama and visual intrigue to any occasion.

Custom Event Flower Arrangements

We can tailor horizontal and vertical flower arrangements for any event. From intimate gatherings to grand events, we craft the finest floral designs and decorations in Adelaide.
Why 7000+ Customers Trust Us for Event Flower Designs & Decorations
Freshness Guaranteed

We're up early each morning to hand-select the
freshest, most beautiful seasonal flowers from
local growers, so you know your posy will go the
mile to bring joy!

Stunning Customer Service

Overflowing with passion and care for what we
do, we always strive to leave you and your
recipient smiling and supported at every stage
of the process.


Expertly Crafted

More than just a florist, we combine 20+ years in
wine, events, and flower design, and are lifting
the bar with a high-quality Flower & Gift Bar
experience unlike any other.

One-Stop Gift Shop

Our website makes it convenient and easy to find
and send the perfect personalised gift for any
occasion - no shopping, wrapping, or delivering
required!
Frequently Asked Questions
At Posy & Flute, we offer event flower decoration for a wide range of events, including
Weddings
Corporate Gatherings
Birthdays
Anniversaries
Baby Showers
Big or small, our focus remains on making every event look amazing. Contact us.
Yes. We are skilled at creating custom flower arrangements to match your event's theme or colour scheme. Just discuss your preferences with us, and we'll create the same decoration.
Yes, we can create any type of floral installation or hanging arrangements that will blow your mind. Our floral designers will work with you to replicate your vision. Let's work together!
Absolutely! We design flower arrangements for both indoor and outdoor events. We take pride in making every event memorable through our stunning floral designs and exceptional service.
On average, event flower decoration costs can range from a few hundred dollars for smaller events to several thousand dollars for larger and more elaborate affairs. The actual cost may vary widely depending on several factors, including
The type and size of the event
The complexity of the arrangements
The choice of flowers,
Contact us
and request an estimate.